IndyVet Emergency and Specialty Hospital is located on the southeast corner of Indianapolis.  It is a veterinarian hospital comprised of several specialty departments; including neurology.  Dr. Kelli Mossine runs the neurology department and has had a lot of success helping diagnose and treat neurological disorders in pets.
Meet Roman
Roman Meadows is a 7-year-old mixed breed canine.  He's a sweet boy who has been dealing with seizures most of his life.  His family found him convulsing outside in late July 2020 after discovering that he had spit out his anticonvulsant the night before without them knowing.  Worried, his family brought Roman to IndyVet for an evaluation.  Upon presentation, Roman was alert and responsive but he was unable to stand on any of his legs (especially his front legs).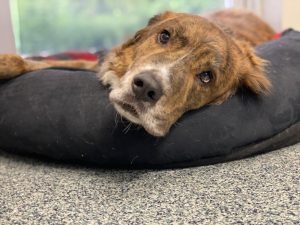 Neurological deficits are not uncommon right after a seizure due to the neurons recovering from the seizure activity.  This is called the post-ictal period.  A post-ictal period is an altered state of consciousness following an epileptic episode.  It can last anywhere from 5 to 30 minutes, sometimes longer depending on the severity of the seizure.
Diagnosis
As Roman recovered from this post-ictal period, though, these neurological deficits persisted. He was evaluated the next day by Dr. Mossine and the IndyVet Neurology Service, and based on the neurological examination findings, there was suspicion that Roman had a neurological problem in his neck as well as suspected idiopathic epilepsy.  Idiopathic epilepsy is the most common cause of seizures in dogs and is inherited.
Further diagnostics were discussed, but due to Roman's improvement over the following 24 hours, Roman returned home for further monitoring. Dr. Mossine also adjusted his anticonvulsant medications.
Recovery
Upon returning home, Roman continued to improve. When he returned two weeks later to see the IndyVet Neurology Service, he was still slightly weak and wobbly, but he was able to walk on his own! Based on this improvement, Dr. Mossine was suspicious of a traumatic disk rupture (where the normal disk ruptures and bruises the spinal cord) or a fibrocartilagenous embolism (where a piece of the disk gets into the bloodstream and cuts off blood supply to an area of the spinal cord). There are no medical or surgical treatment options for these conditions, but due to Roman having feeling in his legs, his prognosis for function was excellent. It can take weeks to months for recovery to occur, though, and some permanent deficits are possible. Rehabilitation/physical therapy can help aid in recovery of these patients.
The IndyVet Neurology Service will continue to treat Roman's presumed idiopathic epilepsy with anticonvulsant medications. Although there is no cure for this condition, we can manage this condition with medications. Every patient is different and may require different medications, but they can live a good quality of life long term!
Roman has continued to improve every day, and his family is very happy with his progress!