Holly, Rooster, Rooster Tooster, Rooka Took, Roo Bear.
Our sweet girl is known by all of these names in our family. Holly came to us as a foster in 2011. She had an injury that she was recovering from and needed a peaceful home environment so that she could become adoptable. Holly was one of many fosters for our family, but when she was healed and ready for adoption we just couldn't let her go. It turned out that she had been with the right family all along. Holly has always been a playful, spirited and healthy girl.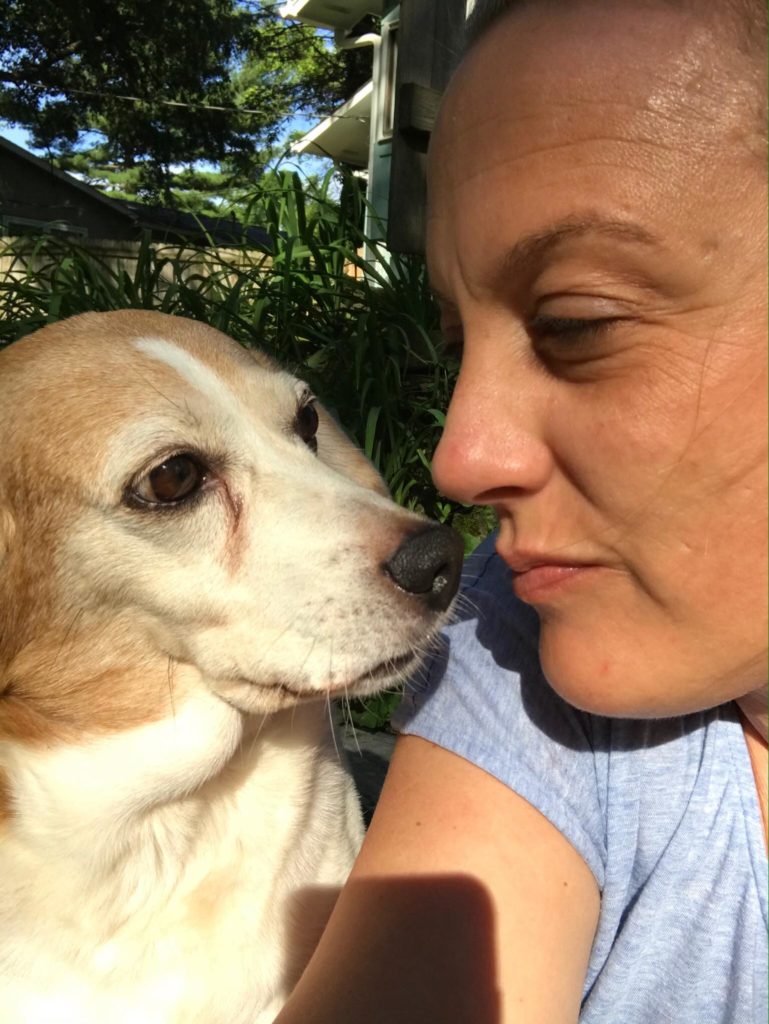 During a routine examination on December 6 of 2019, Holly did one of her signature moves. She stuck her little nose straight up in the air to give me a backwards kiss on my face as I sat behind her. When she did that, our vet, Dr. Woodruff, examined her neck and felt a small but definite lump. Dr. Woodruff has taken care of our furry family members for over 20 years. This wasn't the first time that a bump or lump had been discovered and I expected that it would be aspirated and we could throw it on a slide and continue on.
When Dr. Woodruff said that he was going to have to send this one to the lab I realized that this was a different situation. My heart sank. We waited for a couple of days, that seemed like an eternity, to get the results back. The news was not good. Holly likely had thyroid cancer. I remember taking that phone call in the parking lot of the grocery store. I asked Dr. Woodruff what to do and he gave me suggestions including IndyVet. I went straight home and snuggled my girl. I didn't know what everything would be like but we wanted that "thing" out of her.
At Hollys first appointment at IndyVet I met the Oncology team. What I learned quickly is that treating cancer is a process. It takes a committed team. There are so many questions and the answers come in parts a little bit at a time. Every step of the way there are more decisions to be made. First an exam and bloodwork to give us information. Next a CT to see what we might be dealing with and learning more and more about all of the various phases and making the decision to have surgery. Then on to surgery and waiting for test results to determine if further steps are necessary. Every step of the way our family was holding our breath hoping for the best news possible and wanting to give our girl all of the years that she could have.
Holly was only eight when she got her diagnosis. Going through the process was a roller coaster. I was constantly evaluating what I was asking Holly to do and her tolerance. The team at IndyVet was amazing and communicated everything with me and Holly's home vet in great detail. Our sweet girl was a trooper! During Holly's surgery to have the tumor removed, I couldn't bring myself to leave. I stayed until it was done and waited for the doctor to come and tell us how she did. It was a long day and our a girl had come through surgery very well! We got to see her for just a minute and then headed home.
We were fortunate that this happened around the holidays and we had a rotating shift of family members to keep an eye on Holly for the next two weeks. After Holly healed from surgery it was time to start chemo. We learned more about mitotic rates, blood counts and nadir values than I could've imagined. Holly went through four rounds of chemo between January and March 2020. Her final treatment was on March 17 of 2020. It has now been over 2 1/2 years since Holly received that scary diagnosis. She is a wonderfully spunky and happy girl. She definitely rules our roost and keeps her big brother Trill, a 90 pound Weimaraner, in line. She likes to put on fancy clothes when the weather is cold and jump in bed with her mom every chance she gets. She loves her birthday parties!
Holly's fur grew back and hides the long scar on her throat. Most of the time we don't think about how hard all of that was. We are glad that we had resources and an amazing team to get Holly healthy. For me, all of this was so much more than medical procedures. For many of the visits I was on my own and trying to make the best decisions.
The staff at IndyVet knew who I was and knew who Holly was. We were always welcomed and made comfortable during the hard visits. They helped me understand all of the financial pieces so that I could put things together in a way that worked for my girl. I always appreciated Dr. Wood, her knowledge and ability to give me the facts I needed. And then there is Izzy. I don't know if Holly and I could've made it through all of this without Izzy. In addition to answering my endless questions and providing excellent care for Holly, she very much became Holly's buddy. Holly would get excited to see Izzy and never acted scared when Izzy came to get her from the room.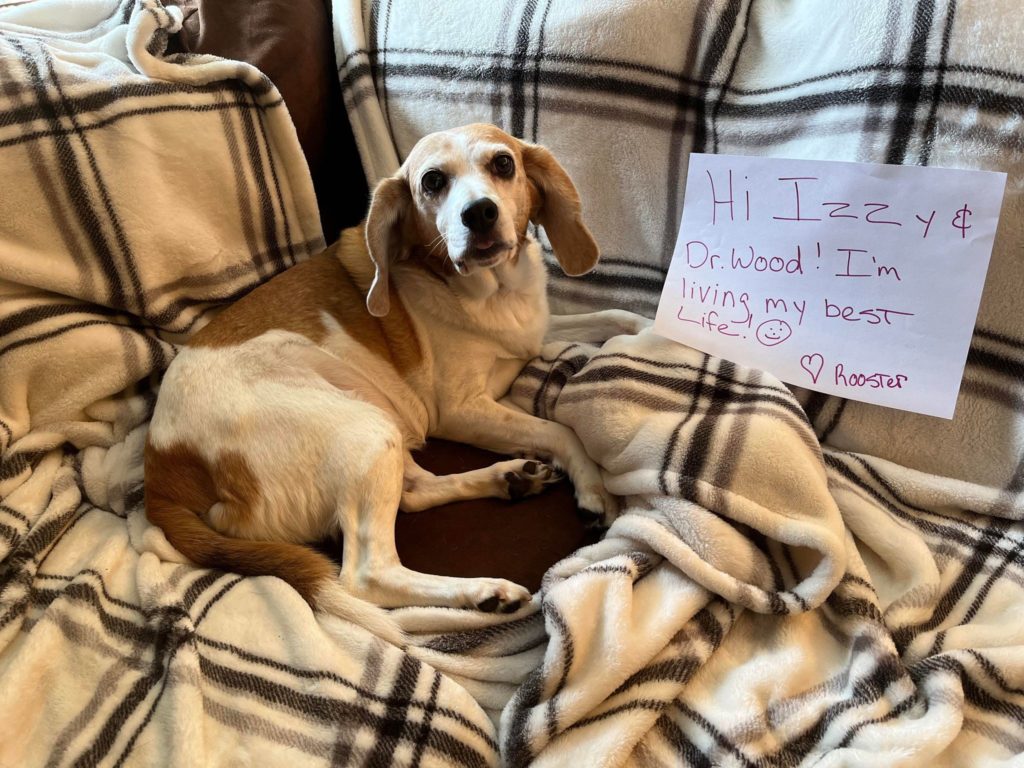 As Holly's mom and the decision maker, it was so comforting to know that my girl felt good while she was there. I also know that there was a big staff in the hospital taking excellent care of our girl. I also truly can't say enough about how Izzy was supportive to me throughout this entire process. She was patient with me through endless tears, questions and decision making processes. I would ask the same questions different ways and Izzy was always just so patient. She knew that all of it was breaking my heart. I told her over and over how I just wanted it to be done. I just wanted my girl to be better so that we could celebrate birthdays and walk on the trail by our house again. She kept reminding me that that is what we were working on.
It's been over two years now since Holly concluded her treatment. We walk on the trail all the time. I love watching her sniff everything and there's not a day that goes by that I don't think about Holly's team and telling Izzy how all I wanted to do was take my girl back to the trail. Every time Izzy has called to see how she's doing it is so fun to give great reports and send pictures of our fun times and birthdays. Every case is truly different and the decisions that families have to make are very personal. In our case, I would do it all again. It was very scary and was several hard months. In exchange for that we have had multiple more wonderful years!
We don't think about that tumor that showed up and changed everything much at all anymore. We are so grateful for Holly's wonderful outcome and feel fortunate for the gift of extra time that we have every single day with our sweet Rooster!
-Jen Orman