It's never an easy thing to hear that your loved one is sick.  Noticing signs of health issues such as diabetes in pets can always be a scary thing for any pet owner.  IndyVet is proud to be available for pet owners 24/7 to improve pet lives and guide owners through some of the most stressful situations.
Sanger is a 4-year-old domestic short hair feline.  He was brought in through IndyVet's emergency room because his family had found him not moving and laying in his own urine. Sanger has had diabetes for about a year and his blood sugar levels had not been steady for a while leading up to this incident.  This was due to the fact that he hadn't been eating.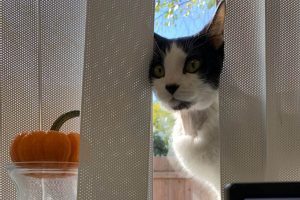 Sanger was examined by our internal medicine team.  Upon examination, we found that he was severely dehydrated, had pale mucous membranes, and was too weak to stand or move with a dull mentation. Dull mentation is when the animal isn't acting right.  This can be things such as circling, pacing and compulsion.
Bloodwork was performed on Sanger which showed hyperglycemia (high blood sugar), severe electrolyte abnormalities, along with elevated white blood cells and kidney values. He was admitted to our hospital for diabetic ketoacidosis, suspect pancreatitis, and dehydration.
Diabetic ketoacidosis is a medical emergency that occurs when there is not enough insulin in the body to control blood sugar levels. The body cannot use glucose properly without insulin, so blood glucose levels get very high and the body creates ketone bodies from fat as an emergency fuel source. If glucose regulation is not achieved, ketone levels increase resulting in the body's acid/base becoming unbalanced. This causes a discrepancy in the body's fluid levels, disrupting electrolytes, leading to abnormal heart rhythms and abnormal muscle function. If left untreated this condition can be fatal.
Diabetes in pets is never an easy thing but there are treatments available!  Treatments include IV fluids, IV insulin, and GI supportive care. Because Sanger has experienced diabetic ketoacidosis, he will remain at risk in the future for another episode. Things to look for include signs of hypoglcemia (low blood sugar), weakness, dullness, tremors, incoordination, and seizures. He will continue to recheck with our IM department.
When Sanger arrived at IndyVet he was in a very critical state.  He stayed in the hospital for 5 days and received intense treatment.  Today, Sanger is doing fantastic and is currently at home with his family.  Although he is now stable, he will need to come back to the hospital for regulation and glucose curves.
Here are some signs to look for in your pet when it comes to Diabetes in Pets:
– excessive thirst
– lethargy
– weakness
– increased urination
– decreased appetite
– weight loss and muscle atrophy
– rapid breathing
Learn more about our internal medicine team here!